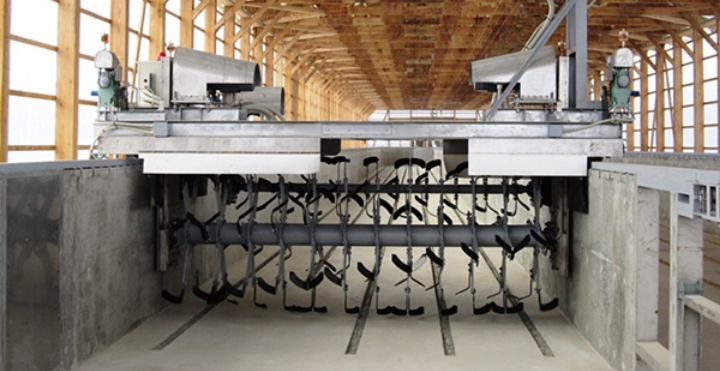 Good News for the global poultry industry with poultry manure processing, solving the following problems.
Fermentation doesn't work/ problem of slow fermentation
It takes a lot of work to regulate the moisture content/ problem of the moisture content adjustment
Strong smell/ problem of strong odor
It costs a lot to add the inoculum for fermentation/ problems that require repair costs
It costs a lot to repair as fermenter often breaks down/ problem of repair and maintenance cost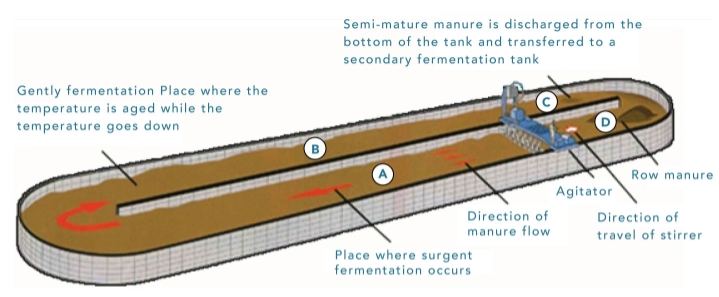 Features
High temperature fermentation by actinomycetes can greatly reduces odor
It kills fly eggs and weed seeds
High temperature processing of dead chicken
One unit (50m) can process 100,000 to 200,000 poultry manure
Very few breakdowns (thanks to the patented two-rotor system which is not a burden to the machine)
Tank depth of 1.3m (1.5m) for easy maintenance
Actinomycetes are so strong that replenishment is unnecessary
Easy to regulate moisture content of raw material manure
Equipment Overview
The Fermentation System has a 25-70m long, 1.3m or 1.5m deep and 8.3m wide tank with a central bulkhead and a circular shape at both ends. It has a rotating agitator that moves on top of it.
The agitator goes on the right side (A side), stirring the chicken manure. When it reaches the end of the tank, it moves to the left side (B side) and comes back to the place where it started, and circulates on the tank.
At point C, 30-80% of the manure, which has been fermented to about 35% moisture, is dumped under the floor, and the remaining 20-70% is sent to point D.
At point D, raw poultry manure with a moisture content of 60% to 78% is added into the tank by heavy machinery to a depth of 1 meter (if the depth of the tank is 1.3m).
Raw poultry manure is mixed with fermented manure with a 35% moisture content, resulting in a moisture content of about 60%. By the action of a large number of actinomycetes, surgent fermentation occurs immediately and the temperature reaches approximately 70℃.
This intense, high-temperature fermentation ends on the right side (side A), and after moving to the left side (side B), the manure is gently fermented and matured. It is then discharged at point C and transferred to the secondary fermenter.
Thereafter, such processing is repeated. The agitator has a pair of special rotating blades, 1.28m and 0.65m in diameter, so that it can very lightly churn the manure.
Product Catalog

HOSOYA Poultry Manure Fermentation System